Introducing the Vaultek RS800i WiFi Biometric Smart Rifle Safe – your powerful and secure weapon storage solution. Looking for a Vaultek gun safe that's as unique as you are? Look no further than the Vaultek RS800i. With its advanced anti-theft protection, you can rest assured that your items are safe from harm. The tough and rugged construction ensures that your investment is well protected, while the pre-drilled holes make it easy to mount on walls or floors. Plus, it's tough enough to withstand any attempted break-in. Invest in peace of mind with the Vaultek RS800i!
The Vaultek RS800i is the perfect safe for anyone with an internet-connected device. With the new Wi-Fi App and Web Dashboard, you can view live safe data and even receive smart alerts of critical safe activity. Whether you're at home or away, you'll always be in the loop on what's happening with your valuables. Plus, the built in LCD screen provides quick visual feedback and user friendly programming.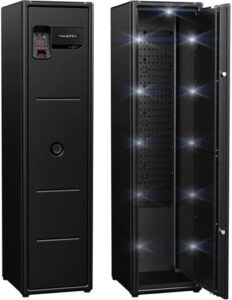 With the Vaultek RS800i your firearms will be well organized. This innovative safe comes with a customizable interior, so you can store your firearms and accessories exactly the way you want. Plus, additional accessories are available to help you store even more rifles, handguns, and magazines. This large, modular safe can store up to 8 rifles and multiple handguns, and comes with a starter kit of accessories to help you get started. The perforated mounting boards make it easy to customize your space, while the slim holster lets you take your pistol or AR mag with you on the go. Additional accessories are available separately. Whether you're a collector or simply need a place to keep your guns safe, the Vaultek RS800i is perfect for you.
Vaulted RS800i Reviews
This Vaultek RS800i gun safe model features advanced Wi-Fi technology that lets you monitor the temperature and humidity inside the safe, keeping your belongings in perfect condition. The modular design is extremely versatile, allowing you to customize the interior to perfectly fit your needs. And with the included app, you can easily keep track of everything that's going on inside your safe.
The Vaultek RS800i is a great investment for anyone looking for premium security and peace of mind. The RS800i is perfect for storing rifles and handguns. Its 14-gauge carbon steel construction with a durable finish prevents corrosion and ensures long lasting protection. The RS800i also features a Wi-Fi biometric scanner that allows you to easily access your firearms using your smartphone or tablet.
LED Lighting
The Vaultek gun safe offers LED lighting which is ideal for your home or office. With its enhanced LED lighting and rechargeable lithium-ion backup battery, you'll never have to worry about being in the dark again. And with its quick 3.5-hour charging time, you'll always be prepared for emergencies.
With its 4 fast access points, oversized LED scanner, and auto-opening front door, you can access your belongings quickly and easily. The Nano Key also provides an extra layer of security, while the proximity sensor ensures that you never have to fumble for your keys in the dark again.
Wi-Fi Connectivity
With its advanced Wi-Fi connectivity, you can view live safe data and receive instant alerts for safe events right to your phone. You can even manage and monitor your safe remotely with the Vaultek WiFi app or exclusive online web dashboard. And if anything happens, be alerted for tampering, impacts, temperature and humidity changes, and much more.
Anti-Theft Protection
The Vaultek RS800i is the most advanced and secure safe on the market. With its anti-theft features, you can rest assured that your belongings are safe and sound. The interior mounted hinges, disable/enabled fingerprints, tamper detection, and (4) stainless steel lock bolts ensure that your possessions are protected from thieves and breaking in.
Illuminated Keypad
The illuminated keypad makes it easy to enter your code, even in the dark, and the proximity sensor detects your hand to illuminate the keypad so you don't have to fumble around in the dark. Plus, with over 19 million combinations, you can be sure that your belongings are safe and secure. And if you need to get into your safe quickly, use one of the hotkey shortcuts for a quick and easy solution.
Oversized High-resolution Scanner
The Vaultek RS800i offers quick, high-resolution scanning for superior performance. It can store up to 20 unique fingerprints for secure access, and features a private identity system to keep your data safe.
Customizable Interior
Vaultek RS800i WiFi Biometric Smart Rifle Safe can be personalized to fit your specific needs. This top-of-the-line WiFi safe comes with a variety of modular accessories, so you can create the perfect storage solution for your firearms and other belongings.
Ideal Configurations
The Vaultek RS800i is the perfect solution for storing your firearms. With its adjustable configurations, you can easily store your AR with magazines attached, or handguns straight in. For convenient access, the built-in peg board allows you to hang your pistols on the door.
Specifications:
Keypad
Backlit 8 digit keypad that has built in proximity sensor
Battery Type

Rechargeable

3.6v 18650 3300mAh Lithium-ion
Keypad Code Length
4 – 8 Digits
Battery Length

In low power mode

up to 3-4 months using
Weight
124lbs
Included Accessories

Single Pistol / AR Mag Holder, Twin Pistol Rack, Nano Key,

Backup Keys, Rechargeable Battery, Charging Kit, Mounting Hardware, and User Manual.
WiFi
2.4 GHz network required
Interior Dimensions
53.25″ H x 13.75″ W x 12.6″ L
Exterior Dimensions
54″ H x 14″ W x 16″ L
Conclusion
In short, Vaultek RS800i, the most high-tech and secure smart safe on the market. If you are looking for a safe that will keep your belongings protected from thieves? Look no further than the Vaultek RS800i! This smart rifle safe comes with advanced anti-theft features, such as anti-pry reinforcement bars and (4) stainless steel lock bolts, to help prevent break-ins.
Plus, it monitors safe movement and triggers an alarm if anyone tries to tamper with it. And for added peace of mind, you'll receive live notifications straight to your smartphone whenever the safe is opened or closed, or when there is any tampering or impact detected. So make sure your belongings are always secure with the Vaultek RS800i!
With its auto open door feature, you'll never have to fumble for your keys again. Plus, the RS800i is equipped with a host of other advanced features that make it the perfect choice for securing your valuables. Classy and sophisticated, this safe will complement any home décor. So don't wait any longer, order your Vaultek RS800i WiFi Biometric Smart Rifle Safe today!
Check Best Price & Buy at Amazon
Related Post:
Top 8 Best Closet Gun Safe In 2022 ( Buying Guide )
Barska Gun Safe Reviews For 2022
How to Install Gun Safe in a Closet?