A closet gun safe is a compact and secure storage solution for your firearms. These safes are designed to fit inside a closet or other small space, making them a convenient option for those who don't have room for a larger safe. They also offer an extra layer of security for your firearms, as they are typically hidden from view and more difficult for burglars to locate.
Although a firearm is a good friend, it can turn against you if it lands in the hands of the wrong people. You can prevent your rifle from getting to the hands of your kids or enemies by keeping it in a closet gun safe. However, it can be challenging to choose the best closet gun safe to withstand breakage attempts.
When shopping for a closet gun safe, there are a few key features to consider.
Size and capacity: Closet gun safes come in a range of sizes, from small units that can hold a single firearm to larger models that can accommodate multiple guns. Consider the number of firearms you need to store and choose a safe that can accommodate them.
Security features: Look for a safe with a sturdy lock, such as a biometric lock or a keypad lock. These types of locks are more secure than traditional key locks and can help prevent unauthorized access to your firearms.
Fire resistance: In the event of a fire, it's important to have a safe that can protect your firearms from damage. Look for a closet gun safe that is fire resistant, with a rating of at least 30 minutes.
Ease of access: Consider the location of your closet gun safe and how easy it will be for you to access your firearms in an emergency. Some safes have quick-access features, such as a spring-loaded door or a fingerprint scanner, which can make it easier to retrieve your firearms in a hurry.
Top 8 Best Closet Gun Safe Reviews 2023
When choosing a closet gun safe, it's important to consider your specific needs and budget. Look for a safe that is the right size for your firearms, has the security features you need, and is fire resistant. With these factors in mind, you can find the best closet gun safe for your needs. Let's see what our selected closet gun safe offers:
If you're looking for a large and spacious closet gun safe, you can't go wrong by choosing the Moutec Large Rifle Gun Safe. This closet gun safe is deeper and larger enough to carry up to 5-6 rifles or shotguns of up to 50 inches with or without scopes. It also features an extra box that allows you to store accessories, ammunition, handguns, and other valuable items.
It features 100% steel walls and tamper-resistant inner edges, ensuring long-lasting wall-to-wall protection. Although it is not bulletproof, its three built-in steel deadbolts create a locking mechanism that allows you to create a personal PIN code, ensuring a higher level of security from kids or thieves.
The Moutec large rifle gun safe beeps in case anyone keys in the wrong pin three times when trying to access it, ensuring no intruder can access it. It features a silent mode, allowing you to access the safe without disturbing others or intruders hearing you.
It features three pre-punched mounting holes in the back and two at the bottom, allowing easy installation to the floor or wall with the included bolts. The separate lockable box inside the safe allows quick access with a reliable pin in any emergency. However this closet gun safe is not resistant to fire.
Pros
It allows quick and convenient access to your guns
Easy to use and install
It allows storage of valuable items
The locking mechanism ensures a maximum level of security
The beeping sound ensures no intruder can access your guns
Cons
The gun safe is not resistant to fire
It is not bulletproof
If searching for a reliable and long-lasting closet gun safe, the Quicktec Large Rifle Safe is your ideal option. Its door is constructed with a durable Steel material, offering physical protection from forced entry. It features a soft inner layer, preventing your rifles, valuables, and shotguns from scratches or damages.
With a slim and simple design, this closet gun safe perfectly matches the decoration style of your hotel, office, or home. Additionally, this design allows you to maintain a stylish and appealing physical appearance. Besides the seamlessly welded pry-proof steel body, this safe closet gun is equipped with five 1-inch solid live-locking bolts, offering you enough security from wrong hands and exploring kids.
With the advanced large fingerprint biometric rifle safe that can save and store up to 125 fingerprints, this closet gun safe keeps your rifles and other firearms securely stored. Also, this biometric rifle only allows the selected users to access the contents in seconds using the security PIN code or key and fingerprint. The Quicktec large rifle closet is deep enough to enable several pistol holsters and pistol hangers to stick to the carpeting behind the door.
With pre-punched mounting holes in the back and at the bottom of the gun security cabinet, this safe closet gun allows easy mounting to the floor or wall using the attached bolts. For personal security, you can switch off the buzzer tone, and the safe will alarm you with beeps in case someone makes three incorrect entries, assuring you of a high level of security. However, setting up the biometric scan is quite challenging.
Pros
It features a highly durable steel construction
Ensures protection to your guns against damages or scratches
It ensures a stylish and appealing physical appearance
The fingerprint biometric enhances security to your guns
It is easy and convenient to install
Cons
The biometric scan is quite difficult to set up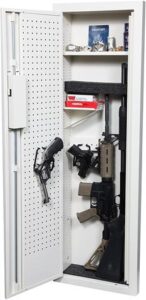 The V-Line Closet Vault II gun safe has a three-point locking system that features steel rods that elongate through the door and into the frame of the vault, offering extra security. The 14ga.door featured by this gun safe uses a convenient simplex mechanical push button lock, allowing easy access to your firearms at all times without the fear of the battery dying.
This best gun safe for closet ensures easy installation with the mounting bolts included in the package and every other equipment required during installation. The V-Line Closet Vault II has a large space, making it ideal for storing four long guns, ammunition, documents, handguns, and accessories.
This closet gun safe protrudes for only two inches, and you can easily install it on the walls of your home, making it ideal for those who want to save on space. However, its locks are simple and cannot stand against thieves, for they are easy to open.
Pros
The mechanical push button lock allows easy access to your firearms
It ensures quick in-wall installation
Ideal for storing up to 4 long guns, accessories, and documents
It's small, saving on space
Cons
Its simple locks cannot stand burglary
The exterior features are not durable
If you need a compact and small closet gun safe for your firearms, you can't go wrong by choosing the Barska Quick Access Biometric Rifle Safe. Its compact design allows you to fit it anywhere in an office, house, or hotel for unmatched convenience. It has the concrete mounting hardware and pre-drilled holes, allowing you to mount it on the floor or wall without worries easily.
Its compact nature allows handguns and to about 4 rifles with no accessory attachments. With its 100% steel walls and tamper-resistant inner edges, this closet gun safe protects your firearms from intruders and kids. The Barska Biometric Rifle Safe features three built-in deadbolts creating a three-point locking system that is resistant to prying and locks out thieves.
The battery-efficient biometric technology featured by this rifle safe delivers low power consumption and allows 4 AA batteries to power the safe for up to 10000 scans. The high-standard biometric module stores up to 120 fingerprints, ensuring consistency and reliability. It also allows users to access their valuables within 2.5 seconds during high-stress situations or home invasions.
This best Barska gun safe features an in-built alarm beep which effectively deters unauthorized access to the safe, ensuring secure firearm storage away from your kids. Although not highly recommended for it puts you on guard in case of any situation, you can place the beeping sound on a silent mode. Its multicolor availability suits your environment, allowing you to maintain the aesthetic of your home. However, this rifle safe is not fireproof and does not contain padding.
Pros
It has an efficiently working finger biometric scan
The multicolor availability maintains the aesthetic appearance of your home
The 4 AA batteries ensure power convenience
It allows quick access to your safe
Convenient for storing up to 3 guns
Cons
It does not contain padding
It is not fireproof
The RPNB Rifle Safe is excellently crafted with a sturdy 16-gauge carbon steel construction, ensuring long-lasting usage without any hassle. With a corrosion resistant black rocky finish, this closet maintains a professional appearance, ensuring durability and ease during installation at any interior space. This rifle safe ensures security and protection to your weapons and valuables from scratches or damage with a soft inner layer.
The 5-live door bolts and concealed hinges are resistant to prying, offering you a high level of security. It also offers convenient strength to prevent intruders from entering the safe. If you make three incorrect entries, this rifle safe yellow light lights up with beeps that time-out and sleep for 20 seconds, notifying you there is an intruder who wants to access your valuables.
It comes with a separate ammunition cabinet, allowing you to store money, handguns, jewelry bullets, passports, and other valuables in your office or home. The convenient lock mechanism allows locking with an electronic keypad by creating your personal 3-8 PIN code or locks with backup keys.
In turn, this ensures ultimate prevention against break-ins. The RPNB rifle safe is deeper and larger to fit five rifles of up to 49 inches long with or without scopes. However, its locking bolts are misaligned.
Pros
It allows storage of bullets and other valuable items
It lights up to notify you of any intruder
It can contain up to 5 rifles
Its construction ensures durability
Easy to install in any interior space
Cons
The locking bolts are misaligned
Its door is quite thin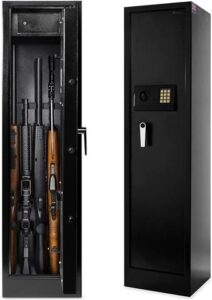 The best choice of products is a perfect match for those looking for a heavy-duty designed rifle safe. It features a tough, high-quality solid steel construction, ensuring that your safe withstands tampering and prying from even the toughest tools. It comes with a digital keypad, allowing you to program this electronic storage safe with your 8-digit PIN code.
With two override keys, this rifle safe allows manual locking and unlocking, which is a perfect way of deterring theft and keeping your firearms away from children. It comes with a built-in rifle rack, offering you sufficient storage space for up to 5 rifles. The interior floor of this safe is padded, preventing scratches or damages to your firearms.
It comes with reliable sleeve anchors, allowing you to securely bolt your safe to the floor or wall of any basement, closet, or garage of your choice. It comes equipped with an internal lockbox and two-compartment keys, keeping your ammo, firearms, and other small valuables such as family heirlooms and documents safe.
With a weight of 105.88 pounds, this safe is less appealing to move from one place to another. Its package also includes 4 AA batteries to power your safe for one year. However, the reset button for the electronic lock sometimes stops working.
Pros
Its construction withstands prying and tampering
Allows manual locking and unlocking
Its padded floor protects the guns from scratches and damages
Easy to install on the floor or wall
Cons
It's heavy to move from one room to another
The electronic lock reset button may sometimes stop working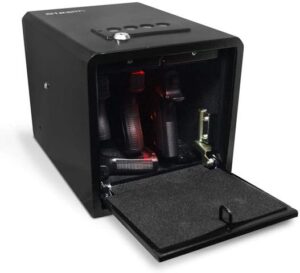 If in need of a closet gun safe that allows faster access to your firearm, the stealth handgun hanger is your ideal choice. The interior of this gun safe features a red beaming light, allowing you to access your firearm quickly. Also, the interior is lined with high-density foam, protecting your handguns from getting damaged or scratched.
The safe is California DOJ approved to hold up to 5 handguns by placing three at a ready-to-go position and two flat on the floor of your safe. It comes with a blue illuminating push-button electronic keypad, allowing you to create a 6-digit combination deterring unauthorized hands from accessing your handguns. The spring-loaded door quickly opens after you enter the correct combination. It features a speed reducer support that helps hold the door for a smooth opening.
However, in its construction, this closet gun safe uses low-quality cables. This safe features an external power port which helps to improve the power convenience. It also comes with a power cord for connecting to the power outlet. Furthermore, you can operate the safe using a 9-volt battery if there is no power connection to your house.
The safe produces an alarm beep when an intruder attempts to hack into it. The door and the locking latch feature solid steel construction, making it sturdy and almost impossible to break. In its construction, this safe use glue produces an intense odor for the first 48 hours of use.
Pros
It has an inbuilt alarm beep that notifies you of any intended hack
The red light ensures easy access in the dark
It has a convenient electronic coded system, with key option
Sturdy and quality features
Cons
It has low-quality cables
It produces an unpleasant smell when new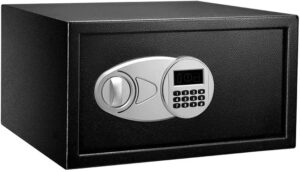 The Amazon Basics security safe features a metal design that helps to enhance its durability. The steel construction and carpeted floor ensure protection on your safe against damage and scratches. This safe closet features pry-resistant concealed hinges, ensuring safety and security to your firearms.
It comes with two live-door deadbolts, allowing you to fix it on the service easily. The adjustable shelf featured in this safe ensures maximum security to your jewelry ID documents, cash, and other valuables in your home, business, or office. The Amazon basics lockbox has an electronic keypad password that ensures no one tampers with your closet safe.
You have to program the lock and add your password to get a working password. In case your batteries run out or you forget your passcode, this safe comes with two override keys, allowing you to access your gun safely without too much hassle. It comes with four attachment bolts, allowing you to easily and quickly mount your safe to the wall or floor.
However, the safe is not waterproof or fireproof. Although not included in the package, it uses 4 AA batteries for power convenience if there is no electricity grid connection to your home. The electronic keypad lock features three indicator lights: yellow for low battery, green for correct operation, and red for the incorrect operation.
Pros
Easy to use and install
It has shelves that help in arranging your weapons
It contains indicator lights for the convenience
Cons
Best Closet Gun Safe Buying Guide
A closet gun safe is a long-term safety tool that is worth investment. When purchasing one, you should be careful to pick one that perfectly meets your needs and preferences. Below are features to consider when purchasing a closet gun safe.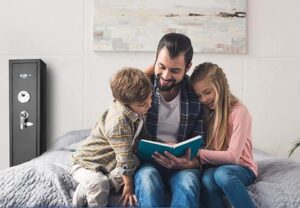 Security locks
A security lock is an important feature to keep your guns away from children and other Intruders. You should ensure that your safe does not have a simple lock system that kids can easily open. The best security locks are digital locks, keys, and biometrics. A closet gun safe that combines at least two lock systems in one is the ideal choice.
If the digital locks malfunction, the keys are important as they help you access your firearms without hassle. If your children are big enough to find and use the keys, it's advisable to use a simple non-lock access system. A non-lock system only requires you to key in the correct keypad combination.
Mounting holes
Closet gun safes are lightweight and easier for thieves to carry around than heavy-duty safes. Mounting holes are important as they enhance ease during installation and keep them in place either on the floor, walls, or basement.
Durability
Always ensure that your closet gun safe is strong and can withstand pressure. Heavy-duty gun safes are sturdy and more durable than closet gun safes. Always choose one that thieves cannot break into easily. Go for one that will take them more time or produce noise alerting you or your neighbors that someone is trying to break your safe.
Remember that thieves can easily break into a weak closet safe when you are away from home, break open your closet without making noise. A strong closet gun safe features metal or other hard materials construction, which helps to safeguard it from intruders.
Size
When purchasing a closet gun safe, ensure that your guns fit in them without too much hassle. Most gun safes include their dimensions on the package, helping you estimate if your firearm fits in it. Ensure that it can easily fit any long gun with or without the scopes.
You may also want to get one that is spacious if you want to add more firearms or valuables to your collection. Your closet gun safe should safely and comfortably store your guns to avoid any accident or wear and tear.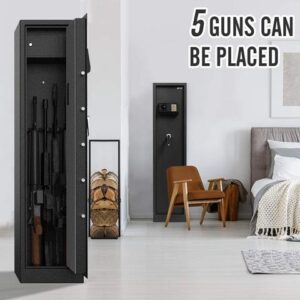 Frequently Asked Questions
Do my closet gun safes need to be climate-controlled?
Yes, it is advisable to place your gun safely in a climate-controlled area without extreme heat or cold. The temperature outside a safe has a great impact on its interior. It is not advisable to put your safe in your basement, non-climate-controlled shop, or garage.
Should I install a dehumidifier in my closet gun safe?
Everyone who owns a closet gun safe should install a gun safe dehumidifier, as firearms have metal components prone to rust and corrosion. Even an insignificant amount of humidity can get trapped inside a gun's vault, causing damage to your firearms or other valuables.
You may use a desiccant humidifier in areas with low humidity, provided you change it out frequently to enhance its effectiveness. The ideal humidity for storing your gun is 50%.
Should I keep my gun safe dry?
Yes, keeping all your firearms in an optimal humidity gun safe is advisable. A too dry firearm might develop corrosion and end up not functioning well. Also, the stocks might crack, and using them might be challenging. On the other hand, storing it in an excessively moist place can cause corrosion.
Should I make my gun safe airtight?
After storing your guns in a safe, close and lock with immediate effect. Install an airtight gun-safe desiccant inside to help keep everything dry and protected against odor-causing bacteria and humidity.
What is the safety rule for storing firearms?
The American Academy of Pediatrics recommends storing firearms locked, unloaded, and away from ammunition. It is risky to store a gun without safe storage measures or locks. For instance, the kids might experiment with the gun if they access it, and the results can be disastrous.
Final Thoughts
Different closet gun safes come in varying sizes and feature different construction materials. The best closet gun safe should be sturdy enough to withstand breakage attempts. It should also allow you quick access to your firearm in case of an attack or emergency. Although the best closet gun safe will depend on your taste and preference, you can't go wrong with any option from the above list.
Check Price & Buy Our Top Pick at Amazon
Related Post:
How to Install Gun Safe in a Closet?
7 Best Vertical Gun Rack For Closet In 2022 ( Great Gun Wall Mount Ideas )
5 Best Small Rifle Safe For Closet In 2022