Thinking about your gun safety day and night must be stressful. Why wouldn't it be? It's the most sensitive, beasty, and dangerous thing one person could have. But the biometric handgun safe can be the best solution for you.
These safes use advanced fingerprint recognition technology to provide increased safety and protection for your handgun, documents, and other valuables. They're reliable, secure, and also easy to use – just enter your fingerprint to unlock the safe, and voila! All set.
Also, the safes are resistant to dirt or dust contamination. Totally outstanding and this is the reason why we've shortlisted the top notched handgun safes out there in the market. We hope you'll like and get your hands on one.
Let's start the discussion, shall we?
Comparison Table of Top Rated Biometric Handgun Safe
| | | | | |
| --- | --- | --- | --- | --- |
| Product | Best For | Quick Access | Smart App Manage | Build Material |
| XDeer S005 | Multiple Functionality | 0.5 sec | No | Carbon Steel |
| ONNAIS | Thickness | 1 sec | No | Stainless Steel |
| PINEWORLD | Fastest Access | 0.5 sec | Yes | Solid Steel |
| Verifi | Both Civilian & Military Use | Fast | Yes | Alloy Steel |
| Lockin | Space Management | 1 sec | Yes | Alloy Steel |
| VAULTEK VS20i | Tightest Security | Bluetooth Sensor | No | Carbon Steel |
| RPNB | Auto Lock Feature | Fast | No | Alloy Steel |
| SentrySafe QAP1BE | Smart Security | Single Handed Access | Yes | Alloy Steel |
| BARSKA | Motion Sensor | 2.5 sec | No | Aluminum |
| GunVault SV500 | Emergency Power | Fast | No | Gauge Steel |
What is a biometric handgun safe?
A biometric handgun safe is a type of firearm storage solution designed to securely store handguns while providing quick and convenient access through biometric technology, specifically fingerprint recognition. These safes are equipped with biometric fingerprint scanners that allow authorized users to access their firearms quickly and easily by scanning their fingerprints.
Here are some key features and aspects of biometric handgun safes:
Fingerprint Recognition: The primary feature of a biometric handgun safe is the fingerprint scanner. Authorized users pre-register their fingerprints into the safe's memory. When they need to access the safe, they place their finger on the scanner, which compares the scanned fingerprint to the stored data for verification. If the fingerprint matches, the safe unlocks.
Quick Access: Biometric safes offer rapid access to firearms, making them suitable for home defense situations. Unlike traditional key or combination safes, which can be slower to open, biometric safes typically open in seconds.
User Profiles: Many biometric safes allow you to store multiple user profiles, enabling multiple people to access the safe if needed. This can be useful for families or shared firearm storage.
Backup Access: To ensure access in case of a malfunction or forgotten fingerprint, biometric safes often have backup access methods, such as key locks or keypad entry.
Security: Biometric safes prioritize security. High-quality models incorporate advanced biometric sensors and encryption to prevent unauthorized access.
Tamper Resistance: Many biometric handgun safes are designed to be tamper-resistant, with features like reinforced locking mechanisms, pry-resistant doors, and solid construction.
Battery Operation: Most biometric safes operate on batteries, so it's essential to monitor battery life and replace them as needed. Some safes offer low-battery alerts.
Compact Design: Biometric handgun safes are typically compact and designed to hold one or a few handguns. They are not intended for long gun storage.
Mounting Options: Some biometric safes come with pre-drilled holes for securing them to a stable surface, such as a nightstand or inside a drawer.
Portability: Certain models are designed to be portable, allowing you to transport them easily or secure them in various locations.
Biometric handgun safes are popular among firearm owners who prioritize both security and quick access to their firearms. However, the effectiveness of these safes depends on the quality of the biometric technology and construction, so it's essential to choose a reputable and well-reviewed model to ensure reliability and security.
10 Best Biometric Handgun Safe
Based on reviews from our own experience and experts recommendations, we've shortlisted the top-notch biometric gun safes among the vast choices. Let's get one for your guns.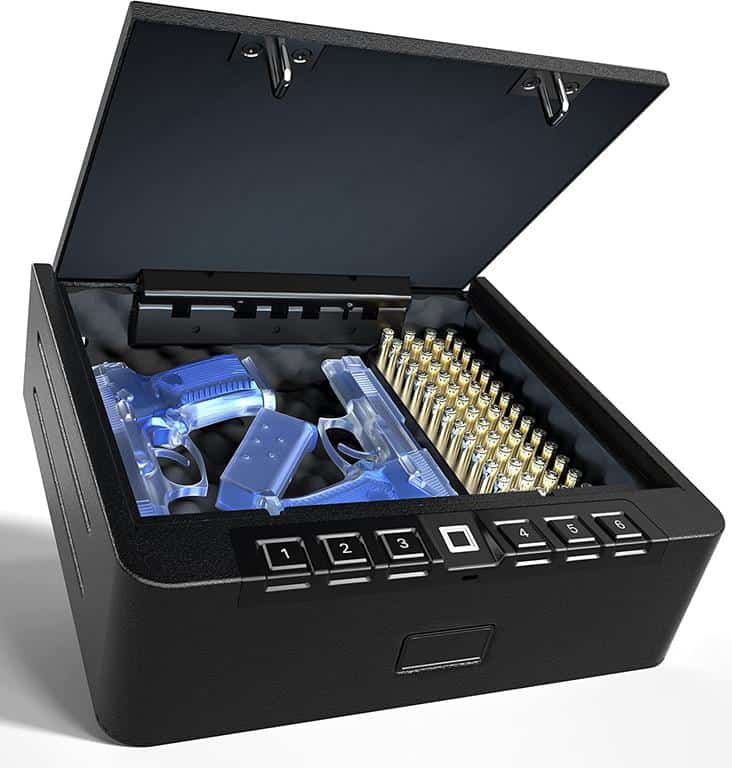 The XDeer Biometric Gun Safe is our top pick for the best biometric gun safe under$130. Who doesn't love quick consistent opening from their gun safe!, this XDeer safe exactly offers so. It is really handy for quick access your guns. It is a lightweight and relatively inexpensive safe that means it is easy to use and also affordable.
And if you are thinking about its toughness then you would be happy to know that it is not easy to break quickly or without a ton of effort. It has a pry-resistant door and pry-proof steel body construction to protect your handguns or other valuables with reliable security. Besides, the steel cable is there to add more safety.
Made of high-quality double layer steel, XDeer S005 biometric gun safe is far thinner than traditional models. It's durable and stylish at the same time. It has LED light, Security cable and Mute option to make you comfortable in every way.
What's more interesting is it has a USB port to unlock it when there's no charge. That's for the emergency solution where you can use a fingerprint or pin, whatever is convenient for you. The safe will open within 0.5sec after you put your pin, though. Not to mention, there are 2 spare keys included for your utmost ease. So, the XDeer Biometric Gun Safe can be the ultimate gun safe for you to keep your guns and valuables organized in your home, office, or anywhere you want.
Pros
The vault has quick access.

Built-in USB port to unlock when the battery is dead.

Made of high-defined pry proof steel.

Comes with backlit keyboard to use in the dark.

Included spare keys for added security.
Cons
The vault is only available in one color.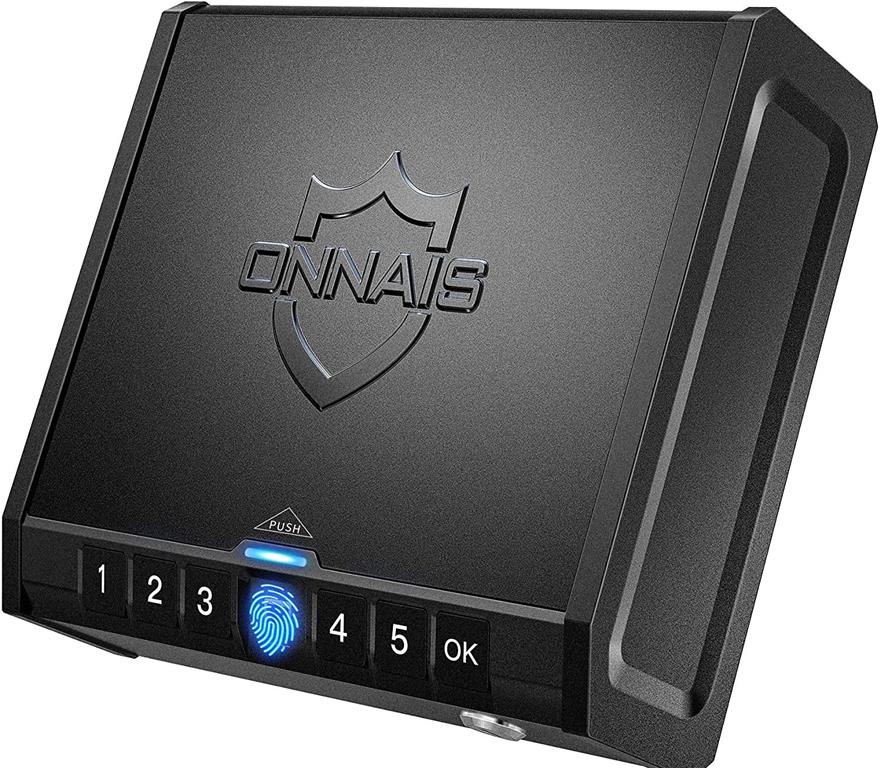 Who doesn't want a gun safe that is fit, versatile, sturdy, and distinctive? We bet you want one like this too. Thanks to ONNAIS for providing us with the amazing item which also has modern locks and mute mode. And It is also well priced at $130.
Equipped with advanced fingerprint technology, this pistol safe grants you quick access within 1second to your pistols whenever needed.
The fingerprint sensor can record up to 30 fingerprints, so everyone in your family can have access to this device. Plus, it features a three-sided solid steel pry-resistant door and the thickest outer body plate, which protects against unauthorized entry to your gun safe.
You'll be glad to know that, the Onnais handgun safe is made with foam that's fully padded. This reduces the chance of any scratch on your pistols or documents. You can put up to 2 frame pistols there along with some small items.
Furthermore, this safe has 2 backup spare keys and keypad locks in case you need to open your safe in some emergency.
Last but not least, it has a mute feature, which means you can use your safe silently without notifying others. Cool, don't you think?
Pros
Can store up to multiple fingerprints.

Has a quick access feature.

Very thick body for theft protection.

Includes pry-resistant steel door

It has a backup override key.
Cons
No smart app is available for smart management.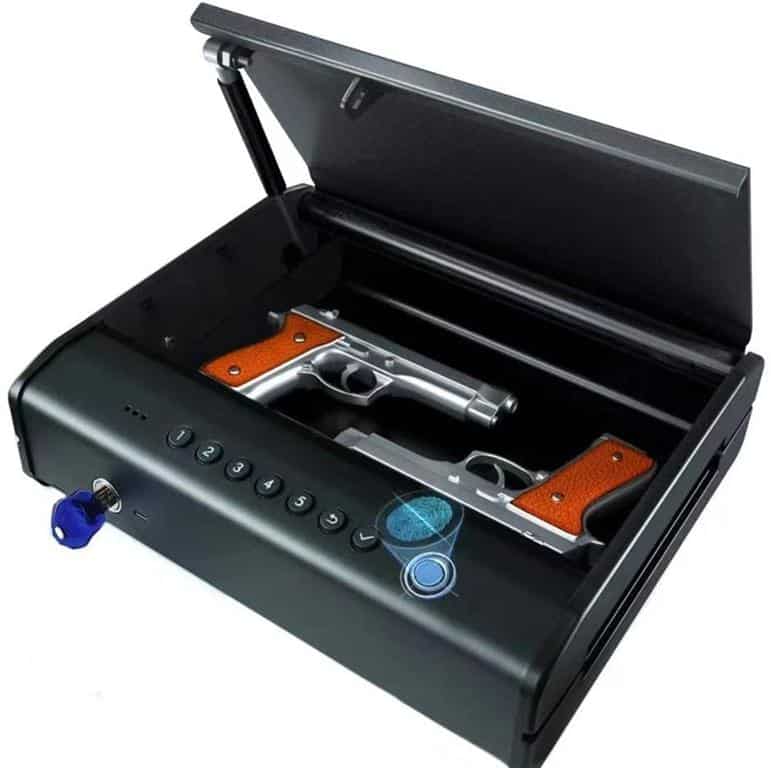 PINEWORLD Biometric Gun Safe is our 3rd choice as its price is little high $160 with discount. The great thing about PINEWORLD safe is that it's made with 10 Gauge Steel with 4AA batteries and a USB-C emergency charger port. You can rest assured about its durability and battery charges for a longer period.
You can easily keep your guns locked, secure, and away from prying eyes with this PINEWORLD Biometric Gun Safe. It can store 2 pistols and offers the fastest and most convenient gun safe on the market today. You can also use this safe as a regular safe or even as a jewelry box. The two included steel shelves will help keep your valuables organized and safe.
This biometric gun safe features quick access of 0.5 seconds and 4-way unlock combinations. Also, the safe can record up to 50 fingerprints which can be convenient in any emergencies for your whole family members.
On top of that, the item can be fixed next to your bed because it has a steel cable and 4 screw holes. No more worries about your safety.
Therefore, you can use the mute option to open and close the safe silently. The password system is also tightened; hence you can level up your security game by adding a 10-digit strong pass.
Pros
It's safe for two pistols.

Has 4-way unlocked combination.

It can be used for multiple purposes.

Has mute mode to work quietly.

Safe with the superior password system.
Cons
Some may find it a bit costly.
How will it feel to have a gun safe with top-class fingerprint security and certified by the FBI? Introducing Verifi, it's engineered to meet the security needs of both civilians and law enforcement with a lock time of fewer than three seconds!
With LED adjustable light and tamper alerts for unauthorized access attempts, it offers more. You can easily track your medicine, backup key access, handguns, reset access, and valuable items.
At the same time, the LCD display is here to alert you to the low battery without even making any noise. Quiet and effective, that's what Verifi is all about.
And the most important thing is its fingerprint. It can store 40 fingerprints along with the auto door locking within fast access.
Now let's say you something unique about this handgun safe. Yes, it's the self-diagnostic test. Like professional safes, this one will automatically self-test the mechanisms every 24hours. It confirms that the system is working fine.
Therefore, the solid steel construction is the guarantee that this one will last for a long time without any tear and wear.
Pros
Has LED adjustable lights in the interior.

Made for both civilian and military use.

Built with solid steel construction.

Introduces FSD approved electronic lock feature.

Comes with a temper alert for any unauthorized access attempts.
Cons
This is a bit costly compared to other vaults on this list.
This one is for the one who likes to own products that are user-friendly. Lockin Biometric Handgun Safe is exactly the ideal combination of convenience, security, and space. Plus, it's portable, which can be the butter in your bread.
With its sleek and minimalist design, the Lockin Biometric Handguns & Ammo Safe provides a secure solution to store firearms and ammunition safely. It's made with sturdy steel that's completely scratch resistant. Your safe will last for a decade at least, we can assure that!
Operated by an easy-to-use fingerprint recognition module, the safe has a maximum capacity of 1 handgun and magazine, or 1 pistol and 3 magazines.
It takes 1 second to access your finger, even if it's wet or dry. In addition, you can enroll up to 20 fingerprints.
The high-quality construction enables it to pass DOJ testing requirements while still being easy to install. You'll easily be able to mount this unit on a nightstand or a desk using the included hardware and keep your gun close at hand when you need it most.
For additional security, you can set a password in your handgun safe. Set the pass and track your safe via the LOCKIN app no matter where you are.
Pros
Very sleek and minimalist design.

Passed DOJ testing requirements.

Has an easy-to-use fingerprint module with multiple entries.

Comes with sturdy material that's scratch-resistant.
Cons
Some find it a bit thin for a handgun safe.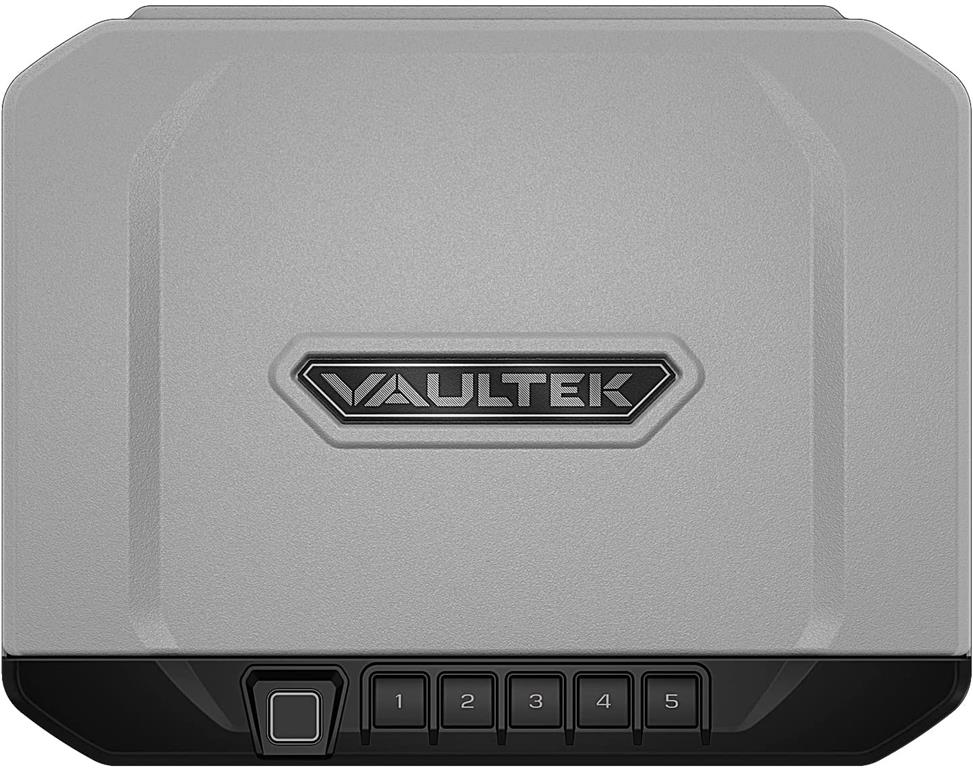 The VAULTEK VS20i is one of the best biometric handgun safe under $300. With an Auto-Open Lid and Rechargeable Battery, it can be the perfect addition to your home or office. Let's see why!
The compact size makes this unit perfect for any room to protect your valuables while keeping them easily accessible.
In addition, it's made with carbon steel of 16gauge, which means the product will be corrosion-free. Hence, the durability is assured.
With 2 spare keys, you can open up your safe when there is an emergency as well.
Furthermore, this safe has an impressive ability to open instantaneously with the use of a fingerprint. You can get a high-resolution Bluetooth sensor and the ability to include up to 20 different fingerprints.
The VAULTEK biometric handgun safe provides anti-theft protection too. We know you were waiting for this and here you go. It has the most powerful anti-theft, which will prevent any breakage.
You can sleep peacefully due to the steel security cable, mounting hardware, mounted hinges, anti-pry bars, a unibody design, and quick release cable. Leave your worries to these.
Last but not least, the lithium-Ion battery lasts for more than a month with just one single charge. Unbelievable, right? Again, it'll only take 2.5 hours to recharge. Your time and safety, are both secured.
Pros
Has Auto-Open-Lid feature.

Very much compact in size.

Includes amazing Bluetooth system for managing safety.

Provides anti-protection theft for extra security.

The battery of the safe lasts longer with just one charge.
Cons
No smart app feature, which is uncommon in its price range.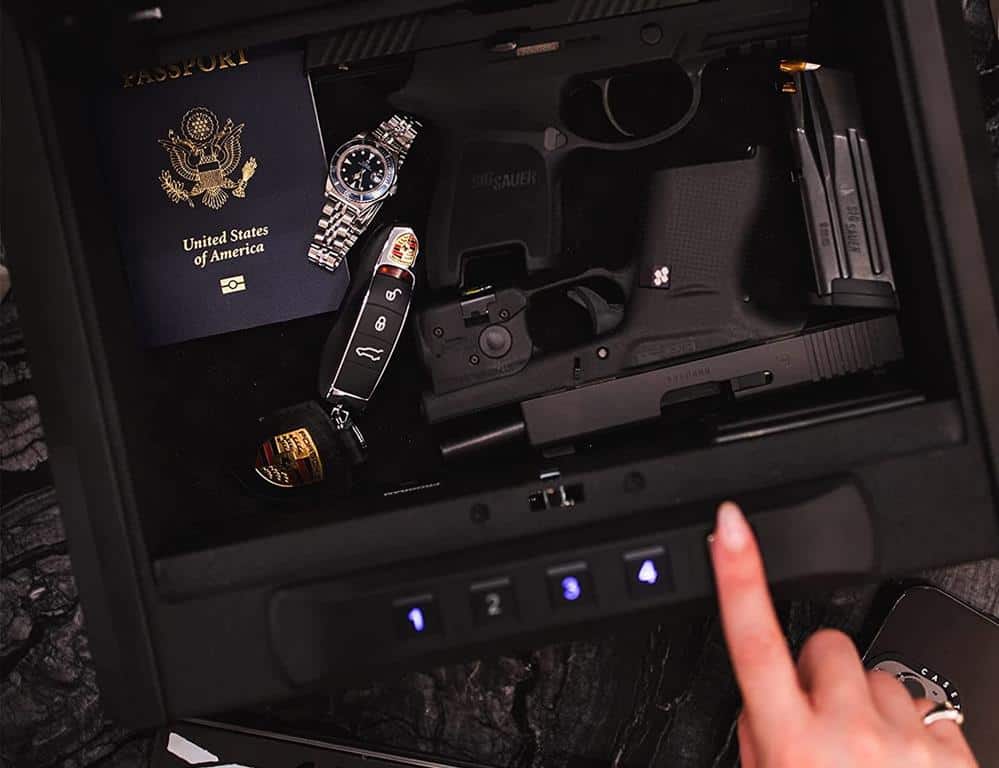 Are you here for a safe that can prevent any unauthorized access to your guns? Then your search ends here as RPNB ensures your firearm is secured from any thefts. It features an auto-lock system for safety and multiple mounting options to keep it next to your bed!
RFID Fob or Card – No need for a key or code. Simply tap your fob or insert your card for instant access to your firearm.
Keep your handgun conveniently in reach with the RPNB Quick-Access Firearm Safety Device. Then lock it away when not in use, and you can retrieve your weapon instantly with a quick swipe.
The shockproof carrying handle allows for effortless transport, and there's even a pocket to hold your RFID fob or card. Convenient and easy all the way!
The 4-digit keypad is easy to use too, while the RFID key fob makes it completely wireless. It has over 20,000 combinations with the fastest entry.
In addition, this safe can be programmed by its user within seconds to fit most handgun sizes without losing any of its fire protection capabilities.
Therefore, it's tough, rugged, and corrosion-free. So there's a guarantee that this handgun safe will be your partner in the long run.
Pros
One of the quickest access vaults.

It has an auto-lock feature for failed attempts.

Has a shockproof carrying handle.

Can be accessed through an RFID fob or card.

Corrosion free and durable for longer usage
Cons
No smart app is available.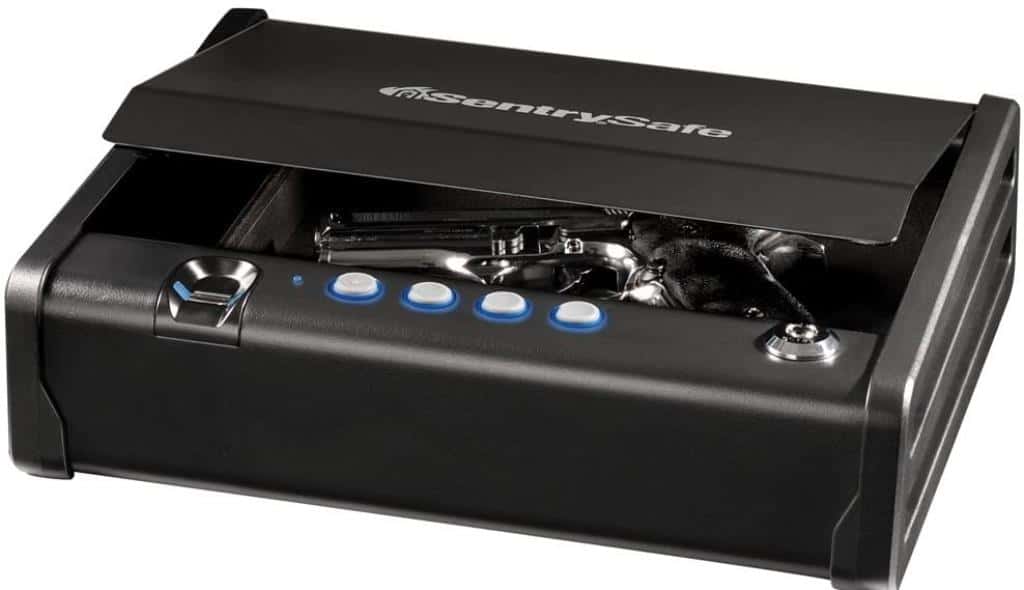 Next up, we have SentrySafe, which is one of the best safes with modern technology. The box will open automatically without a second try, and the padded interior will last for a decade. How cool is that?
The SentrySafe is fortified with a biometric scanner to guard your guns against unauthorized entry. This solid alloy steel safe comes with an electronic lock, providing the utmost security for your personal guns and valuables.
Also, it has a fingerprint reading system that smartly ties in security with ease for your armory. You can unlock the safe with a fingerprint scanner fastly and simply.
On top of that, you'll notice additional securities. It comes with an override key for your bakcup entry, a pry-resistant door, and a manual keypad. No worries for the safety at all.
Lastly, this one will last for 8-10 years of its superior construction. The batteries are rechargeable, and they'll work for months with one single charge.
Pros
Made of solid gauge steel.

Has an optical scanner.

Specially designed for cartridge holster.

Comes with pry resistant door and manual keypad.

Has advanced fingerprint scanner for quick access.
Cons
Has no auto-lock feature which is very common in this price range.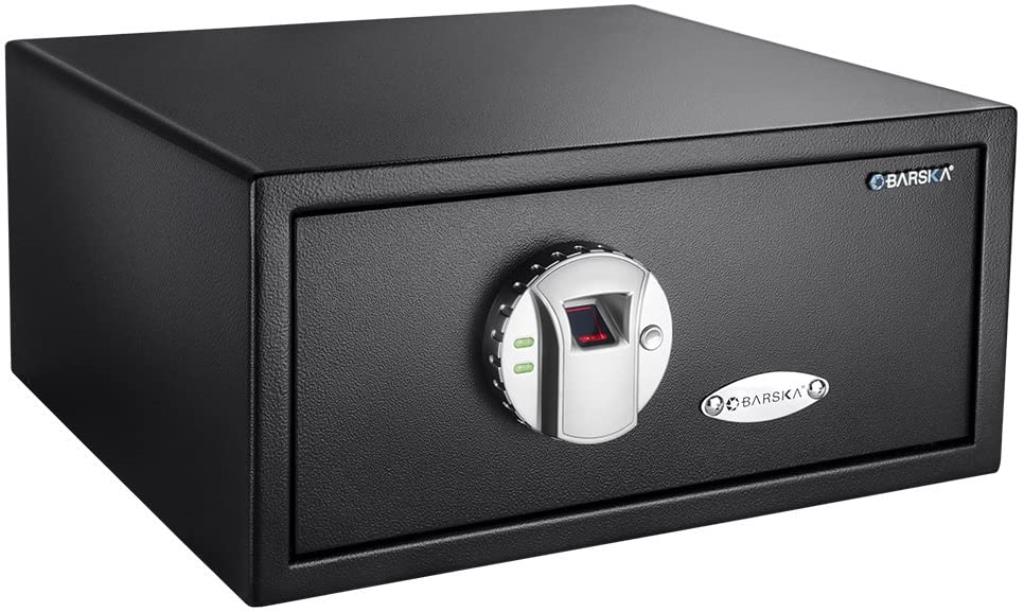 Nowadays, people go crazy for a deadbolt lock and childproof firearm feature. If you're searching for one too, no need to worry anymore because Barska won't let it happen. It's one of the most secure gunsafe to store guns and documents.
The safe comes with powerful inner edges and a dual deadbolt lock system to give you some extra spice of security. Moreover, you'll get theft protection and a childproof firearm for the utmost safety.
Then again, the open design allows you to put in and out your valuables swiftly. At the same time, the superior steel construction ensures excellent durability.
It has a built-in digital keypad with a backup override key and motion sensor to protect against false alarms.
On the contrary, you can use the safe daily. It has the ability to withstand tampering and prying, which will lead to excellent longevity.
You'll be happy to know that Barska biometric fingerprint scanner opens your safe using the same technology used by law enforcement and the military.
A scan of your finger is converted into a digital code, which is then compared against the preloaded code numbers in the safe's memory in seconds. If a match is found, the door will open.
It'll record up to 120 fingerprints, and the scanner will access it within 2.5 seconds. Praiseworthy enough, we must say!
Pros
Made for multiple functionalities

Has premium steel construction that makes it durable.

Finger impression converts to digital code, which makes it very safe.

Temper and pry resistance for everyday usage.

Includes superior safety features like childproof firearm and deadbolt lock .
Cons
Some find the safe a bit costly.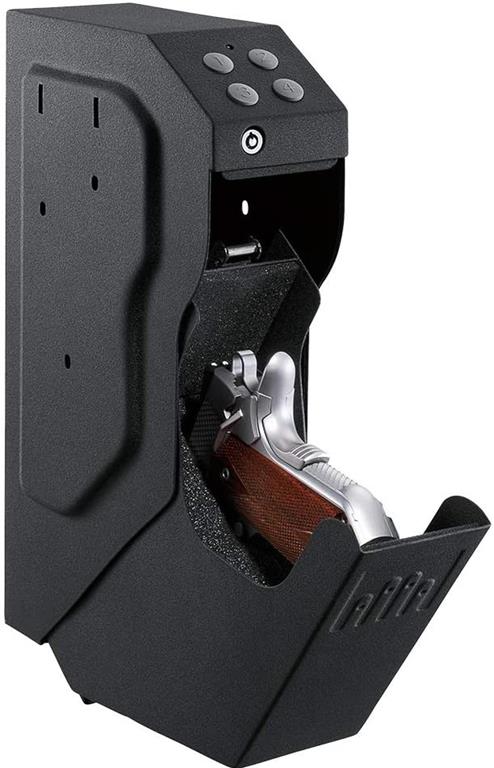 For our last product, we have GunVault. Add a layer of protection for your guns and valuables with this SV500 Handgun Safe. This heavy beast is constructed to protect against unauthorized entry, which DOJ highly approves!
The Handgun Safe is a heavy 18-gauge steel security box that is designed to provide quick, secure access.
It features a 3-point locking system with a drill resistant hard plate too, making it nearly impossible to pry open. The Handgun Safe also has an override key in the event of an emergency lockout too.
Furthermore, this drop down gun safe comes with motion detection technology that lights up when movement is detected within 6 feet of the safe. This is pretty different than any other safes.
Likewise, an internal programmable electronic lock is here for multiple uses such as keeping kids out of guns or controlling who has access to your gun storage and access needs.
The protective foam liner inside makes sure the protection of the materials, and they'll be unharmed for the padded finish as well.
Finally, this biometric drop down gun safe has amazing battery quality that also has LED; if the battery is low, it'll warn you immediately.
Pros
Made of heavy gauge steel body.

Has emergency power supply for 10 minutes.

Comes with a battery indicator.

The safe is drill resistant

Comes with motion detection and an override key for extra safety.
Cons
Has no smart app support.
Best Biometric Handgun Safe Buying Guide
When looking to purchase the best biometric handgun safe, it's essential to consider several factors to ensure that the safe meets your security and accessibility needs. Here's a comprehensive buying guide to help you make an informed decision:
1. Biometric Technology:
Quality of Scanner: Look for a biometric handgun safe with a high-quality fingerprint scanner. It should provide accurate and fast recognition of authorized users. Check for low false acceptance rates (FAR) and false rejection rates (FRR) to minimize access errors.
User Capacity: Determine how many fingerprints can be stored in the safe's memory. Some safes allow multiple users to be registered, which can be helpful for shared access among family members.
Backup Access: Ensure the safe has a reliable backup access method, such as a key lock or keypad. This is crucial in case the biometric scanner malfunctions or if the primary user's fingerprint is not recognized.
2. Security:
Solid Construction: Choose a safe with robust construction, typically made of steel, to resist tampering and unauthorized access. Check the thickness of the door and walls for added security.
Tamper Resistance: Look for features like pry-resistant doors, reinforced locking mechanisms, and anti-drill protection to deter burglars from attempting to break into the safe.
Mounting Options: Consider whether the safe has pre-drilled holes for securely mounting it to a wall, floor, or other stable surfaces to prevent theft.
Audible Alarms: Some safes offer audible alarms or notifications for unauthorized access attempts, providing an added layer of security.
3. Quick Access:
Speed: A key advantage of biometric safes is their quick access. Look for safes that open in seconds, allowing you to access your firearm rapidly in emergency situations.
Silent Access: Some safes offer silent or discreet access modes to avoid alerting potential intruders during nighttime emergencies.
4. Size and Capacity:
Interior Space: Ensure the safe has enough interior space to accommodate your handguns and any accessories you plan to store, such as magazines or spare batteries.
Portability: If you need to transport the safe or secure it in different locations, consider a portable model with handles or cable attachments.
5. Power Source:
Battery Life: Biometric safes typically run on batteries. Check the expected battery life and ensure that the safe provides low-battery warnings to prevent being locked out when the batteries need replacement.
6. Durability and Finish:
Powder-Coated Finish: Look for a safe with a powder-coated finish to protect against corrosion and wear.
7. Price and Warranty:
Budget: Determine your budget and compare safes within that range. Keep in mind that investing in a high-quality safe is a crucial aspect of firearm safety.
Warranty: Ensure that the safe comes with a manufacturer's warranty to protect your investment and cover potential defects.
8. Legal Compliance:
Local Laws: Check your local and state laws regarding firearm storage requirements to ensure that your chosen biometric handgun safe complies with these legal requirements.
9. User-Friendly Interface:
Look for a safe with an intuitive user interface and clear instructions for programming and use.
10. Reviews and Recommendations:
Research customer reviews and seek recommendations from trusted sources or firearm enthusiasts to learn about the experiences of others with specific models and brands.
By carefully considering these factors and conducting thorough research, you can find the best biometric handgun safe that meets your security needs and ensures responsible firearm storage.
How does biometric authentication work in handgun safes?
Biometric authentication in handgun safes works by using a person's unique physiological or behavioral characteristics, primarily fingerprints, to verify their identity and grant access to the safe. Here's a step-by-step explanation of how biometric authentication works in handgun safes:
Fingerprint Enrollment:

The process begins by registering authorized users' fingerprints into the safe's memory. This typically involves placing a finger on the fingerprint scanner several times from various angles to capture a comprehensive image of the fingerprint.

Fingerprint Storage:

The captured fingerprint data is then converted into a digital template, which is a mathematical representation of the unique features of the fingerprint. This template is stored securely within the safe's memory.

Fingerprint Recognition:

When an authorized user wants to access the safe, they place their finger on the fingerprint scanner, which captures an image of their fingerprint at that moment.

Comparison:

The newly captured fingerprint image is then compared to the stored templates within the safe's memory. The biometric software analyzes the similarities and differences between the captured image and the stored templates.

Matching:

If the captured fingerprint closely matches one of the stored templates (within an acceptable tolerance level), the biometric system recognizes the user's identity as authorized, and access is granted.

Access Control:

With a successful match, the safe's locking mechanism is disengaged, allowing the user to open the safe and access its contents.

Backup Access:

In case of a failed match (false rejection), the biometric handgun safe typically provides a backup access method, such as a traditional key lock or keypad entry. This ensures that users can still access the safe even if the biometric system malfunctions or their fingerprint is not recognized.
Key points to note about biometric authentication in handgun safes:
Speed and Convenience: Biometric authentication is known for its speed and convenience. Authorized users can access their firearms within seconds, making it suitable for emergency situations.
Security: The uniqueness of fingerprints makes biometric authentication a highly secure method, provided the system has low false acceptance rates (FAR) and false rejection rates (FRR). High-quality biometric safes incorporate advanced sensors and encryption to prevent unauthorized access.
User Capacity: Many biometric handgun safes allow multiple users to be registered, allowing for shared access among family members or trusted individuals.
Backup Access: Backup access methods are essential to ensure access in case of biometric system failures, which can result from factors like dirty or wet fingers or sensor malfunctions.
Maintenance: Users should periodically clean the fingerprint scanner to maintain accurate readings and minimize the risk of false rejections.
Overall, biometric authentication enhances the security and accessibility of handgun safes, offering a convenient and reliable way for authorized users to quickly access their firearms while maintaining the highest level of safety and security.
Are biometric handgun safes secure?
Biometric handgun safes can be secure, but their level of security depends on several factors, including the quality of the biometric technology used, the construction of the safe, and how well they are designed and manufactured. Here are some considerations regarding the security of biometric handgun safes:
Biometric Sensor Quality: The reliability and security of a biometric safe hinge on the quality of the biometric sensor. High-quality sensors are more accurate and less prone to false readings. Cheap or poorly designed sensors can lead to false acceptances (allowing unauthorized access) or false rejections (denying access to authorized users).
False Acceptance and False Rejection Rates: Biometric systems can have false acceptance rates (FAR) and false rejection rates (FRR). A secure biometric safe should have low FAR to ensure that it doesn't open for unauthorized users. However, it should also have a low FRR to prevent legitimate users from being locked out.
Backup Access: A secure biometric handgun safe should have a reliable backup access method, such as a keypad, key lock, or combination lock. This ensures access in case the biometric sensor fails or malfunctions, or if the primary user's biometric data changes (e.g., due to injury or age-related changes).
Tamper Resistance: The construction of the safe is crucial for security. Look for biometric safes made of robust materials like steel, with reinforced hinges and pry-resistant doors. A tamper-resistant design makes it difficult for burglars to gain unauthorized access.
User Authentication: Biometric safes often use multi-factor authentication to enhance security. This may involve combining biometric data (fingerprint) with a PIN or passcode, adding an extra layer of protection.
Encryption: The stored biometric data within the safe should be encrypted to prevent unauthorized access or hacking attempts.
Power Source: Biometric safes typically rely on batteries. Ensure that the safe has a reliable power source and low-battery alerts to prevent being locked out when the batteries run out.
Regular Maintenance: Users should perform regular maintenance, such as cleaning the fingerprint scanner, to ensure it functions correctly.
Manufacturer Reputation: Choose biometric safes from reputable manufacturers known for producing high-quality, secure products.
Local Laws and Regulations: Check your local and state laws regarding firearm storage requirements. Ensure that your chosen biometric handgun safe complies with these legal requirements.
It's important to note that not all biometric handgun safes are created equal. While high-quality models can offer a high level of security and reliability, cheaper or poorly designed safes may have vulnerabilities. Therefore, it's crucial to research and choose a reputable and well-reviewed biometric safe from a trusted manufacturer to ensure it meets your security needs and justifies the investment in firearm safety.
FAQs about Biometric Handgun Safes
1. Can the biometric system fail, preventing access to my firearm?
While rare, biometric systems can experience failures such as misreads due to dirt, moisture, or changes in the user's biometric features (cuts, burns, etc.). To address this, many safes include backup access methods, such as keypad codes or mechanical keys, to ensure that you can always access your firearm even if the biometric system encounters issues.
2. How reliable is the biometric technology used in these safes?
The reliability of biometric technology varies depending on the quality of the sensor and the algorithms used for matching. High-quality safes use advanced sensors and algorithms that offer a high level of accuracy and reduce the chances of false rejections or false acceptances. It's recommended to research and choose a reputable brand with positive user reviews to ensure reliable performance.
3. What are the advantages of using a biometric handgun safe?
Biometric handgun safes offer several advantages, including rapid access to your firearm in emergencies, enhanced security by eliminating the need to remember and input a code, and the ability to grant access to authorized users without sharing combinations or keys. Additionally, biometric safes often have a sleek and user-friendly design that fits well in various environments, such as bedrooms, offices, or vehicles.
Final Thought
So, now that you have a list of some best biometric handgun safe, you can blindly trust any of these guns. But note, there is no one "best" biometric handgun safe on the market. However, there are a few factors to consider when choosing a biometric handgun safe. These include the size of the safe (to ensure it will fit your handgun), the security features (to ensure your handgun is safe and secure), and the price.
From our side, we recommend the VAULTEK VS20i. It has smart features along with its carbon steel body that makes your vault super strength. Besides, with more than 10000 possible combinations, it's quite unbreakable. But its price is around $300 that can be a problem for you if you budget is less. If your budget is less that $100 then you can choose our top pick XDeer S005. This have selected this handgun safe based on its price, quick access, toughness, and multiple function.
But, believe us, based on your specific needs, you can choose any product from our list, they all will serve you the best we promise.