Disaster will freak you out no matter what, and fire is surely one of them. In the US alone, there are over 500,000 fire cases per year – about a case each minute. We know it sounds intimidating, but that's the truth. 
Now, whenever a disaster happens, you'd surely save yourself first, wouldn't you? That's what you should do, but what if we said you could protect your firearms collection and precious documents without losing a single piece? 
Well, the answer is the best fireproof gun safe. Having that, you can just run out of the house without hesitation since the safe will protect your valuables. 
Hence, keeping the realities in mind, we've shortlisted and come up with top 10 picks that are meant for keeping different types of guns, documents, etc. 
Stay with us to know the review and buying guides so that you can choose one that meets your taste. Let's buckle up!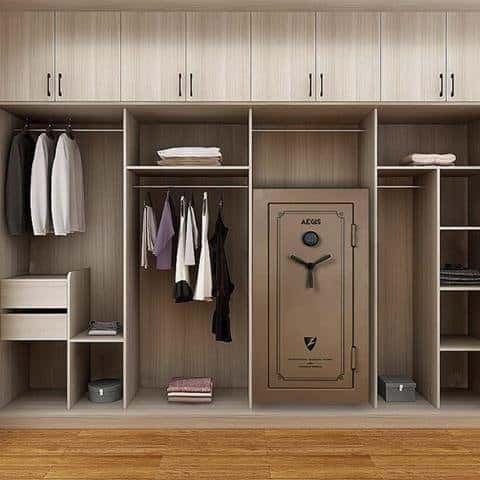 So, What makes a gun safe fire resistant?
A fire-resistant gun safe is designed to provide protection for its contents from the damaging effects of fire. The fire resistance of a gun safe is achieved through various design elements and materials that help to slow down the transfer of heat and maintain a lower temperature inside the safe for a certain period of time. Here are some key features that make a gun safe fire resistant:
Fireproof Insulation: Fire-resistant gun safes are lined with layers of fireproof insulation materials, such as ceramic fiber or gypsum board. These materials are designed to absorb and dissipate heat, helping to keep the interior temperature of the safe lower than the external temperature during a fire.
Fireboard or Fire-Resistant Panels: Many fire-resistant gun safes use special fire-resistant panels made from gypsum or other fire-retardant materials. These panels contribute to the insulation and heat absorption properties of the safe.
Sealed Door Joints: Fire-resistant safes often have tightly sealed door joints that help prevent the intrusion of flames, smoke, and heat into the interior of the safe.
Intumescent Seals: Some safes are equipped with intumescent seals, which are materials that expand when exposed to heat. These seals help to create an additional barrier against heat and smoke entering the safe.
Fire Ratings: Fire-resistant gun safes come with specific fire ratings, which indicate the amount of time the safe can withstand a certain temperature before the interior temperature rises to a critical point. Common fire ratings include 30, 60, 90, and 120 minutes. These ratings are established through standardized fire tests conducted by independent laboratories.
Structural Design: The overall construction and design of the safe play a role in its fire resistance. Thicker steel walls, reinforced doors, and other structural enhancements contribute to the safe's ability to withstand the stresses of a fire.
Testing and Certification: Reputable fire-resistant gun safes are tested and certified by independent organizations that specialize in evaluating the fire resistance of safes. These certifications provide consumers with confidence in the claimed fire protection capabilities of the safe.
It's important to note that while fire-resistant gun safes are designed to offer protection against fire, they might not be completely impervious to all conditions. Extremely high temperatures or prolonged exposure to fire can eventually breach the fire resistance of even the best safes. Additionally, the internal temperature might still rise over time, so it's recommended to store valuable items, documents, and firearms in fire-resistant containers within the safe for added protection.
Comparison Table of Best Fireproof Gun Safe
Here is the comparison table to let you know how these 10 products are different from each other,
Reviews of the Best Fireproof Gun Safe
After a week of research, we finally found the top 10 fireproof gun lockers, which will save you from fire damage. No matter which one you choose from here, they'll serve you greatly.
For the first product on our list, we have Steelwater, one of the best fire-resistant gun safes ever on the market. It has the ability to protect your locker from smoke and fire for straight 120minutes.
Well, you never know when you face a situation like a fire in your office or home. It's important to be careful all the time. Steelwater makes sure to keep your guns secured at 1875F until you solve the fire situation.
The beast's door, ceiling, and overall construction are all about 9 gauge steel. It's so heavy-duty that nothing can enter it (not even a single vapor).
Plus, the door seal expands 8x larger when it senses any risk. It protects the locker from water situations as well.
Coming to the interior part of this shelf, it has a door organizer. You can easily set up your pistols, bullets or other accessories here for quick access.
Not only this but also it has small shelves that you can use in the right and left sections of your gun safe. Anything can be put here and you can literally move them at your convenience.
Note that, Steelwater is amazing with the gear-driven lock too. No damage can happen here for the punch, pry, or drill attacks; it means it's anti-theft as well.
The installation process is simple, also with the pre-drilled holes.
Therefore, the EMP-proof keypad will let you save your passcode easily. Just insert the pin and open your locker. If you forget the password, there's always a double bitted bypass key. Cool, isn't it?
Pros
It comes with the ability to protect rifles from fire for 2 hours

The locker has a digital keypad to ensure the highest security

Door organizer is here for the pistols and bullets

Gear-driven lock guards from prying and punching

Pre-drilled holes are here for easy fitting
Cons
A nice-looking safe with the best fireproof quality is a bomb. AEGIS confirms this with utmost security, as well as the various mounting options.
This gun safe is made powerfully with solid steel. Besides, it's stain and corrosion-resistant to make the product durable for a long time.
You'll be happy to know, this sturdy lockers body will provide you with fire resistance for around 45 minutes at 1400F. No smoke will enter the locker until it is at the average temperature.
Moreover, the 180-degree roasted front door is super thick here. It'll expand large if any fire conditions are happening.
The gun safe is equipped with a modern keypad system. You have to press your saved pass-lock and open the locker anytime.
Inside the shelf, you'll find a door organizer too. Here you can keep all your go-to pistols so that you don't have to search for the gun mess every time. Convenient, isn't it?
And yes, the adjustable shelves are here for your personalization. It'll be easy for you to organize the whole safe to your taste. You can move them too if you ever feel like it.
Pros
The safe comes with a 45minutes fire protection system for security

Digital keypad allows easy unlock

It has adjustable shelves for customization

The door organizer helps to arrange accessories 

Made with solid steel for extreme reliance
Cons
Well, here we got another Steelwater gun safe because it's one of the best. But this time, you'll get fire resistance for up to 1 hour. Also, it's made with 12 gauge steel which is the cherry on top!
To help your rifles in the locker from fire and water circumstances, you have to believe Steelwater. It's because this one will save your safe for 60 minutes straight by expanding the door seals.
The guns will be protected and the safe will be super fine just like before as it's made with alloy steel.
There are gear drive locking bolts as well to resist punching, prying and drill attacks. No one can ever harm your locker that's for sure.
With the keypad system, you can easily unlock your safe by putting your pin code. Don't worry about getting locked out; you'll get 1 bypass key for emergencies.
The door organizer makes the whole thing super convenient. Your little pistols, bullets, cards, or even jewelry can be put here without trouble. Just open the door and have simple access to them.
Additionally, the removable shelves are here to make your gun safe and more assembled. But if you don't like them, you can always remove them to make more space for your rifles.
Last but not least, the pre-drilled anchor holes will be a great help for your installation. You can fit it anywhere without any professional help.
Pros
It comes with amazing fire resistance to keep the locker safe

Has an improved keypad system for high security

Gear drive locks help to avoid pry, punch and drill attacks

Installation is easy with the anchor holes

Removable shelves help with the customization
Cons
If you're looking for something basic, Southeastern will be your gem. This fireproof gun safe can save you from disastrous fire issues without damaging the locker. Besides, the live locking bolts make it more secure!
The gun safe is made with heavy-duty alloy steel. It's super sturdy with a 32long rifle store capacity. You can put as many guns as you want here.
The main part of the cabinet is the fire resistance. For the dangerous situation, the walls of this locker expand largely and protect the inside belongings for 60 minutes at 1400F.
You can also lock the safe perfectly to avoid risky circumstances, as it has 5 amazing locking bolts. The door is also exclusive, so no one can ever open it by punching or attacking.
For your highest security, you'll get a digital keypad system. There's also an LED light for better vision inside the locker. You won't mess up anything inside, that's for sure.
There isn't any chance of being locked out a, well. The backup key will save you from this annoying setup.
Finally, the installation process is way too easier. The drilled holes will let you fit the thing by yourself anywhere in your house, office, or basement. Impressive, don't you agree?
Pros
It comes with excellent fire resistance to avoid risks

The backup key is added to the keypad for extra security

Drilled holes are here for easy installation

It has enough space to keep more guns
Cons
The interiors are not organized
A good safe, where you can literally put anything, from guns and rifles to pistols, bullets, and ammo, is obviously special. SnapSafe makes sure about it fully.
This gun locker is made with 9 gauge steel so that it can guard your firearms for a long time. No rust or corrosion will happen, no matter where you place it.
Moreover, two-ply steel walls make sure any fire or excessive water doesn't damage the construction. The heat-activated locker will shield your guns at 2300F for 1 hour. Praiseworthy indeed!
Then again, there is pre-drilled floor mounting. It helps the whole gun be safe to be balanced. Even if you keep it in your basement or on a surface that's not straight, it won't make your guns fall.
Coming to the interior part now, the cabinet has soft foamy material here. The reason is to keep the guns uninjured for ages. 
Additionally, there are 1 full and 2 half shelves so that you can organize your rifles just the way you want. If you don't want to keep them there, just remove them.
The locker has enough space to put 12 guns, including ammo and pistols. You can also put your money, jewelry, or bullets on the racks that'll come with the locker.
Therefore, the EMP-proof modern keypad will just blow your mind. You don't have to reset the password every time. Just set it once and you'll have access to the locker simply. If you ever forget the pin, there's a mechanical key to save you.
Pros
The locker has heat activated door to protect guns from fire

Keypad comes with EMP-proof technology for the utmost security

It has multiple shelves to arrange things properly

The construction is heavy duty for longer durability

Drilled floor mounting helps with balance
Cons
A little smaller compared to other gun safes
What do you think about a 55" tall safe? Definitely, it's cool with lots of space just like Fortress. Also, it has two locking system types, which are very much needed for the safes defense.
Fortress tend to have amazing outer parts with grayish color, which looks classy anywhere. You can easily fit this beast everywhere from your office to your home.
In addition, the lever handle is really highly defined. It'll give you a soft yet strong grip to open or close your locker.
Not only this but also the full body of the cabinet is made with rich steel, which means there's no way it'll get damaged in a few years. It'll always be your side, protecting your firearms forever.
The 2 deadbolts and 3-1" locking bolts are here to provide additional assurance as well.
Moving on to the next part, which is the fireproof feature. Yes, this feature is really needed to avoid risky situations. No worries at all, as Fortress can guard all the accessories inside for 30 minutes. In the meantime, you can surely calm the environment.
Furthermore, the keyboard is extremely convenient. It has a smooth touch and the backup key is included for the extra facility.
You can also set the U-alarm function here. It's mainly for the theft alert. If someone puts in the wrong password, it'll ring. What more do you need?
Pros
It comes with a U alarm to protect guns from thieves

The locker has a digital keypad for convenience

Fireproof feature helps to safeguard the inside belongings

It's made with alloy steel for high resilience

Locking bolts and deadbolts add extra security
Cons
No pre-drilled anchor holes added
Have you ever heard about a fire-resistant gun safe that can hold around 46 long guns and 6 handguns at once? If not, then look no further, as Kodiak can surely do it. Plus, the door of this locker enlarges 7times more just to save your guns from fire and fumes.
This locker has protection on its door, floor, walls, and ceiling to avoid risk created by smoke. With the 1400F temperature, it'll guard the inside rifles for 40 minutes.
On top of that, the construction is super sturdy here. The whole body is made of alloy steel, including the door. It has 2.00mm material which you can't damage with prying, punching, or any drill attacks.
Talking about the heavy-duty door, you should also know that the security system is top-tier. Kodiak ensures UL electrical lock with an effortless password system. You need to insert your preferred pincode and voila! It'll be only accessible to you.
Guess what? This locker has excellent space for all of your guns and rifles. It has space for 30 long guns, 10 handguns, and pistols, which is impressive – hands down.
Likewise, the door organizer will help you have easy access to your firearms. You can find it simply from the door if you want to go outside with your required gun.
Remember that, the adjustable shelves are lifesavers that Kodiak provides. Put them or remove them, it's completely up to you!
Pros
The locker has a large place for the firearms for your convenience

It's fire resistant hence no damage will happen to the guns at all

Comes with an excellent handle and locks for extra security

Interior parts can be personalized any day with the removable shelves

Built with strong steel for longevity
Cons
Less space for scope-mounted rifles
Everybody loves premium products and Steelwater is one of them. It's famous in the market for delivering such durable products for years now and the best quality is its 14G steel construction. Let's see how!
Steelwater gun safe is made with tough steel. Even if you use it for a decade, it'll still remain as fresh as new. No scratch or rust will happen here to damage your locker.
Another thing is the heavy-duty door. It can be rotated 180 degrees so that you can open it effortlessly anytime. Also, the door is thick enough so no punching can make it damaged.
You'll be happy to know that Steelwater gun safe will protect your rifle from fire anytime. It has the ability to keep the firearm guarded for 45 minutes at 1200F. Your guns will be secured there until you solve the situation.
Moreover, the locker has high defined locking system. The password needs to be set and you just have to press it at your desired time. 
During the EMP attacks, you don't have to panic at all if you have this locker. You'll never be locked out here as it comes with the bypass key. Just unlock and lock it when it's needed.
For the inside part, the material is soft. Your guns will be in a dry and cool environment in a healthy way. If ever they fall, they'll remain uninjured.
Lastly, the adjustable racks are available too. If you think you want to remove them, do it to make more space for your rifles. Easy and simple!
Pros
It comes with a digital key system to avoid EMP attacks

The locker is made with strong steel for durability

Keeps the rifles safe from fire to avoid the risk

The interior part is foamy to keep the guns undamaged

Adjustable racks make it easy to customization
Cons
Changing the access code is tough
Sports safes are always amazing. But if it has both fireproof and waterproof quality, hands down it's the chef's kiss. Sports Afield is just like this.
The construction of this gun safe has triple seal technology. It'll protect your valuables from every type of disaster you face. No matter if it's water damage, fire damage, or any other issues, the safe will be intact till the end.
It can guard your rifles for 45 minutes in a huge fire situation. Nothing will touch our inside accessories and that's the best part. And if it's any water-related event, the safe will stand in there up to 2ft of water for at least 7 days. How impressive!
Next up, this safe is anti-theft. It has a pry-resistant door to avoid punching and prying with the hard plates to confirm any risk.
Besides, an anti-theft alarm will let you know about any danger beforehand.
For the interior part, the whole ground is carpeted. If your rifle falls down in the locker, the carpet will protect it fully.
There are also removable shelves. You can customize it to your own preference at any time. Also, you can put your important papers, wallets, pistols or other things for better and more organized outcomes.
Last but not least, you'll get 2 spare keys with the keypad system. No matter how many times you slip out your pin, you can always have a backup.
Pros
The locker has a waterproof and fireproof quality to avoid all the disasters

Convenient for personalization with removable shelves

Interior is fully carpeted to keep the guns safe

2 keys come with the package for additional safety

Anti-theft alarm beeps for unauthorized entry for security
Cons
Expensive compared to other safes
For the last one, we have California DOJ-approved SentrySafe. It can endure around ½ hours of fire without defacing the locker. 
The gun safe has 5 live locking bolts and 4 deadbolts, which will lock the door properly. No harm can happen to the inside belongings.
On top of this, the built-in of this safe is super powerful. It's made with alloy steel which will be reliable for your guns for ages for sure.
The great thing about SentrySafe is that it's both water and fire-resistant. In the fire, it'll protect the guns for 1/2 hours, and in water, it'll do the work up to 72 inches. Your necessary items will be guarded that we can guarantee.
For the inside part, the racks are large to keep your guns comfortable. Without the guns, you can keep your passport, wallet, money, and jewelry.
 Also, the floor has carpet to avoid any kind of inconvenience in case the guns fall.
Let's tell you that you'll get the full advantage of using a digital keypad system for extreme security. With the proper passcode, you can lock and unlock the safe and no one will have access to it.
Lastly, the alkaline AAA batteries are here attached, lasting up to 8-10years. What more do you want?
Pros
It comes with fireproof and waterproof quality for extra security

Has a keypad system for easy unlock

The racks are simple to use for guns, pistols, wallets, money and many more

It's made with alloy steel for reliance

Batteries are included for your convenience
Cons
Interior part has a bad smell
What to Look for Before Purchasing a Fireproof Gun Safe? 
Before you buy your gun locker, there are some characteristics you must check twice. Such as
The first and foremost thing you need to check is the fire resistance of the locker. You should keep your rifles and important documents sealed in a situation like this.
Confirm if the feature can protect your safe for 30 minutes to 2 hours max.
The more the construction is heavy, the more advantage you'll get in the long run. Try to buy a cabinet that's made with heavy-duty steel. It'll help the whole thing to be reliable, durable, and damage free.
Modern technology is very necessary and the keypad is one of them. Double-check the keypad to see if you can smoothly use it.
And remember to buy a locker that comes with a bypass key. You never know when you'll get locked out, so be careful.
With removable shelves, you'll get to customize the inside part of the locker. It's also easy to gather some extra space for your guns and rifles. 
Make sure the gun safe has movable racks for your ease.
A simple installation procedure is basic. Try to buy a locker that you can place anywhere in your home or office.
Are fireproof safes waterproof?
Not all fireproof safes are automatically waterproof, but some models are designed to offer both fire and water resistance. These safes are commonly referred to as "fireproof and waterproof safes" or "fire/water safes." These safes are constructed with additional features and materials that help protect the contents from water damage as well as fire damage.
Here are some features that fireproof and waterproof safes might have:
Sealed Construction: These safes have tightly sealed joints and gaskets to prevent water from entering the interior during floods or other water-related incidents.
Waterproof Seals: Fire/water safes often have waterproof seals around the door and other openings to create a barrier against water intrusion.
Special Latches and Locks: The locking mechanisms of these safes might be designed to resist water infiltration and prevent the safe from being accidentally opened by water pressure.
Waterproof Ratings: Just like fire ratings, some fireproof and waterproof safes come with specific water resistance ratings that indicate the amount of time the safe can withstand water exposure without allowing water to penetrate. These ratings are established through standardized tests.
Drainage Features: Some safes have drainage mechanisms that allow any water that does enter the safe to be drained out once the water recedes.
Elevated Design: Elevating the safe off the ground can help prevent water damage during flooding by keeping the safe's bottom away from standing water.
It's important to carefully review the specifications and features of any fireproof and waterproof safe you're considering purchasing to ensure that it meets your specific needs. Not all fireproof safes are designed to withstand water, so if water resistance is a critical factor for you, make sure to look for safes that are explicitly labeled as fireproof and waterproof or have relevant water resistance certifications.
Are gun safes fireproof
Yes, many gun safes are designed to be fireproof to some extent. Fireproof gun safes are constructed with materials and insulation that can withstand high temperatures and protect the contents from damage in case of a fire. The level of fire protection can vary depending on the quality and design of the safe.
Fireproof gun safes typically have a fire rating, which indicates the amount of time the safe can withstand a certain temperature before the interior temperature rises to a critical point that might damage the contents inside. Common fire ratings include 30 minutes, 60 minutes, and 120 minutes. During this time, the safe is expected to protect the items inside from flames and heat.
However, it's important to note that not all gun safes are created equal, and the fireproofing capabilities can vary significantly between different models and brands. When purchasing a fireproof gun safe, it's advisable to check the manufacturer's specifications, fire rating, and any third-party testing certifications to ensure that it meets your requirements for fire protection.
Keep in mind that while fireproofing is an important consideration, you should also consider other aspects of a gun safe, such as its security features, size, locking mechanism, and overall build quality, to ensure that it meets your needs for firearm storage and protection.
How heavy is a fireproof safe?
The weight of a fireproof safe can vary widely depending on its size, construction, and the level of fire protection it offers. Fireproof safes come in various sizes, ranging from small document safes to large gun safes. The weight of a fireproof safe is primarily influenced by the materials used in its construction, such as steel, fire-resistant insulation, and other structural components.
Here are some general weight ranges for different types of fireproof safes:
Small Document Safes: These are compact safes designed to hold important documents, passports, and small valuable items. They typically weigh anywhere from 20 to 100 pounds (9 to 45 kilograms), depending on their size and fireproofing features.
Medium-Sized Home Safes: These safes are larger and offer more storage space. They can weigh between 100 to 500 pounds (45 to 227 kilograms).
Large Gun Safes: Gun safes designed to hold firearms and other valuables can be quite heavy due to their size and the weight of the firearms they're meant to store. Large gun safes might weigh anywhere from 500 to over 1,000 pounds (227 to 454 kilograms) or more.
It's important to keep in mind that the weight of a fireproof safe is not only determined by its fire resistance but also by other factors such as the thickness of its steel walls, the quality of its locking mechanisms, and any additional security features it might have. When considering the weight of a fireproof safe, you should also factor in the weight of the items you plan to store inside it, as well as the location where you intend to place the safe, as some floors might have weight limitations.
Before purchasing a fireproof safe, it's a good idea to check the manufacturer's specifications for the specific model you're interested in to get an accurate idea of its weight.
Frequently Asked Questions
Are fireproof gun safes worth it?
Yes, fireproof gun safes are worthy. If you want to keep your guns safe inside the locker, you should get one with amazing fire resistance. Also, you can keep important papers, jewelry, money, or other belongings there for extra safety.
How long will a fireproof gun safe last in a fire?
Fireproof safes will last for around 1hour-2hours depending on the brand you're purchasing from. The more the duration is, the more secure the locker will be.
Where should I keep my fireproof gun safe?
You should keep your gun safe somewhere private. It can be in your bedroom, basement, laundry room, or bathroom. Keep it secured from your child as well because they tend to be more curious.
The Bottom Line
That's all about the best fireproof gun safe. We're sure you'll be able to find out your one now that meets all of your requirements. Just make sure to check carefully whether the features are authentic or not.
And if you don't know what to purchase, you can try Steelwater Extreme. It has the ability to keep your locker safe from fire for 120 minutes. Plus, it has a strong body, digital keypad, and door organizer for extra facilities.
Likewise, other products are also great. Select one that seems great to you.
Good luck!